Due to the weather, Mass tomorrow will be in our CCS gym at 8:15am, followed by the blessing our our classroom Advent wreaths. Parents who are attending are welcome to bring their Advent wreaths from home for a blessing as well. Mass uniforms are required.
Our 5th and 6th grade students attended the first ever field trip at St. John Restaurant in St. Martinville today! They got to tour their hydroponic gardens and greenhouses and witnessed what it takes to make them work. They ended the visit with a fantastic lunch tasting the vegetables they saw growing. The students also enjoyed bouncing around Elevation Station to end their trip. They had an amazing day! A special thanks goes out to Luke and Whitney with St. John for making this first of its kind field trip a huge success for our students!
Mrs. Leah's Kindergarten class had an amazing on their Bowling field trip with their 7th grade buddies... exploring subtraction!
Mrs. Leah's Kindergarten class had an amazing on their Bowling field trip with their 7th grade buddies... exploring subtraction!
Our Jr High Religion Teacher of the Day was Miss Camille McGee! She had coffee and a donut, led the class in prayer, and assisted students in making rosaries. All in all, quite a great day!
Mrs. Leah's Kindergarten class participated in their 1st annual Alphabet Fashion Show!!! It was a Huge Success!!!
Help us wish a Happy Birthday to Mrs. Christina Dupuis!
TOMORROW is Crusader Day at Pizzaville USA in Carencro! Join us there for Family Night. If you can't make it, you can also call in your order for lunch or dinner!
Tomorrow is our November Crusader of the Month Mass. Due to possible rain, Mass will be in our CCS gym at 8:15am. Mass uniforms are required.
Kindergarten is spreading Kindness this week for National Kindness Day!!!
Veterans Day Mass is tomorrow at 8:15am in our CCS gym. Due to possible rain in the forecast, the location has been changed. Students must wear Mass uniforms.
Kindergarten Indian Pow Wow!!!
Today, Fr. Cambre and Mrs. Robin accompanied the 8th graders on their visit to the Shrine and Museum at the Schools of the Sacred Heart. They were given a tour of the beautifully maintained campus shared by the Academy of the Sacred Heart and Berchman's Academy, including the Chapel built in 1850. They were also able to tour the room where a miracle occurred and led to the canonization of St. John Berchman and the museum which holds more than 200 years of history of the school and how it came to be in the heart Grand Coteau. The students had a great time and were in awe at the marvelous history and Catholic mystery and identity they experienced in a short time. Thank you to the Schools of the Sacred Heart for having us over today!
Open House is Tonight!
Pre-K 3 celebrates Election Day with a day full of voting!
Help us to pray for more vocations in our diocese and around the world! Without priests, we have no access to the sacraments. Without religious brothers and sisters, we have no one living in constant prayer before the Blessed Sacrament and tending to the poor and sick when lay people cannot do so. Foster vocations in the home by speaking about these options with your children. Let them know that religious life and vocations to priesthood are acceptable and encouraged in your family!
Exciting week! Kindergartners visit the Book Fair!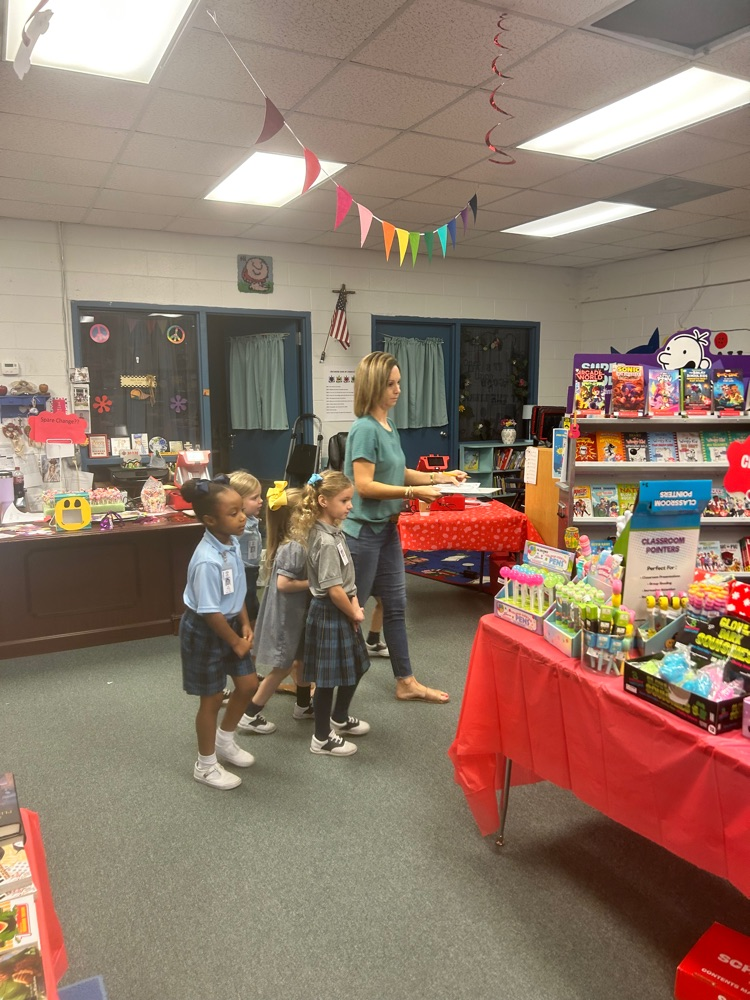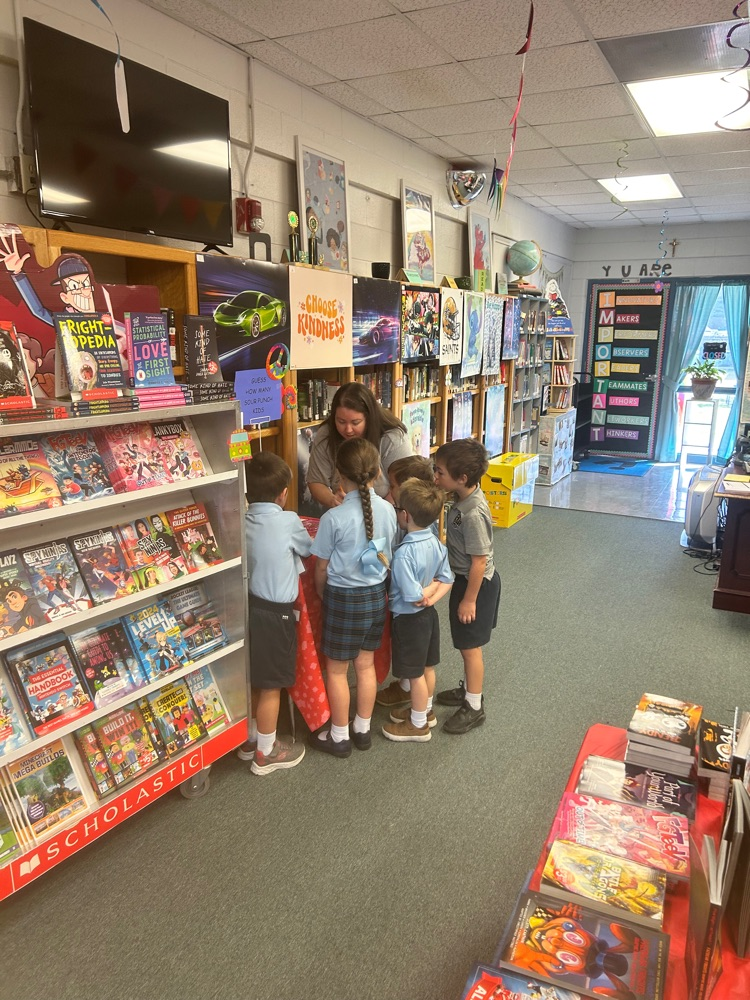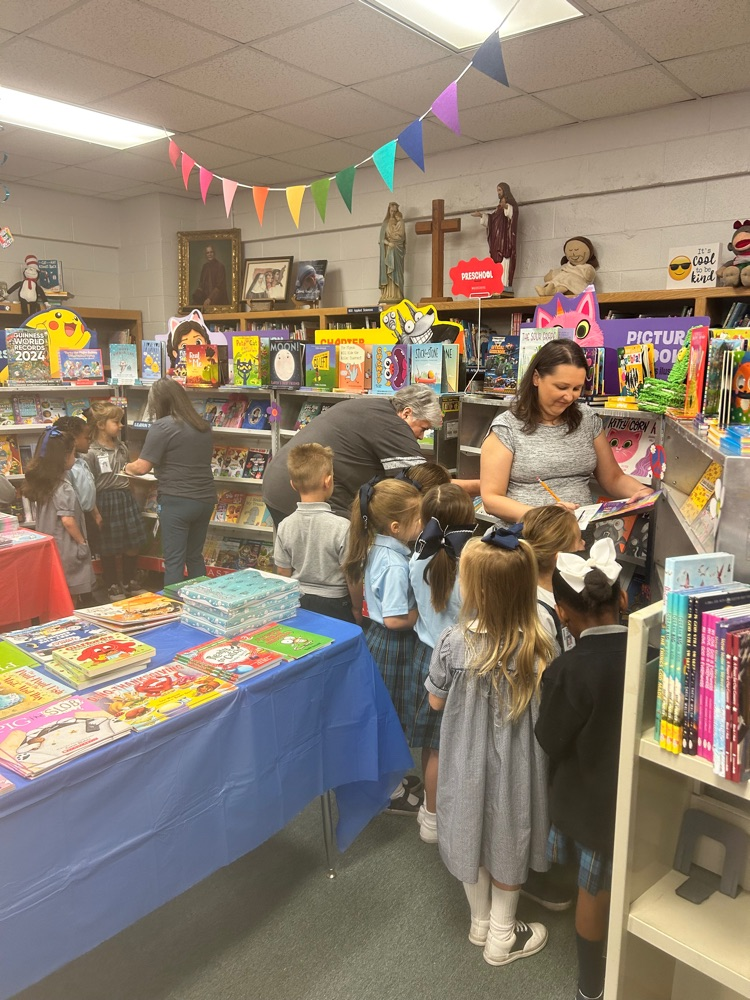 I spy with my little eye...a priest on campus! Fr. Cambre went from answering deep, thought provoking questions with our 8th Graders to outdoor play with the little ones in PK4! We are so blessed here at CCS!